Bio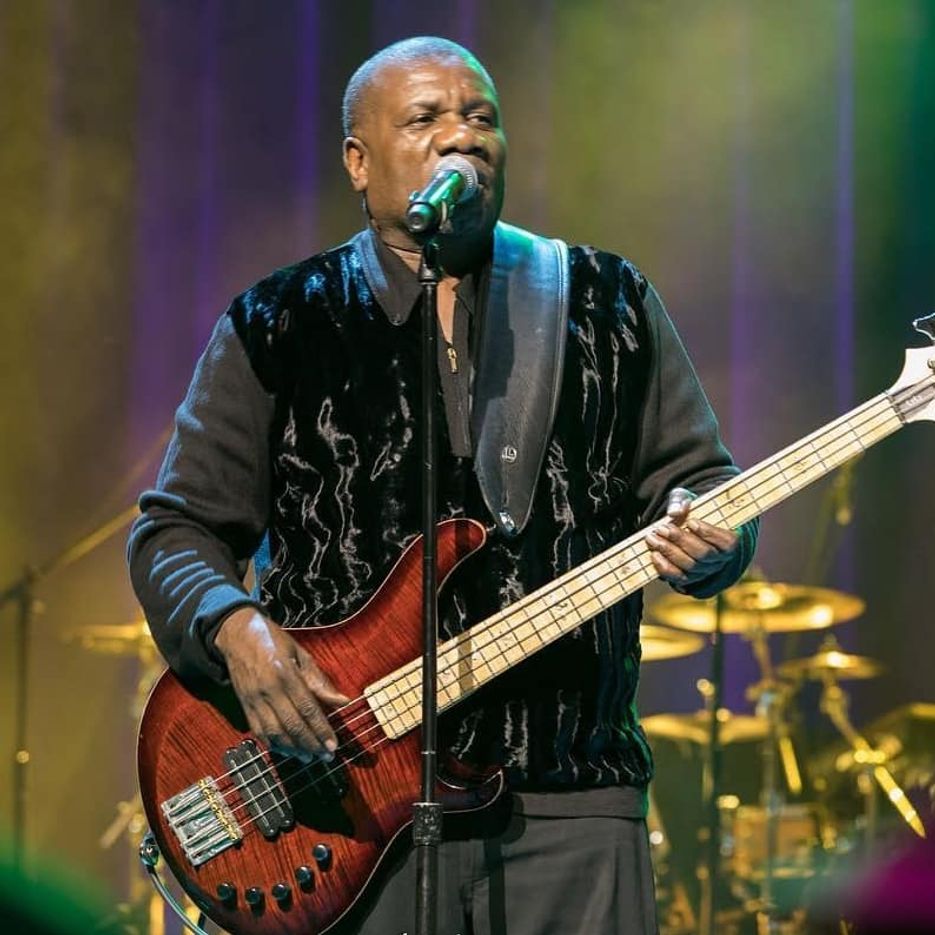 Sugar Bear
Experience Unlimited
Gregory "Sugar Bear" Elliott is a globally known recording artist, front man, lead vocalist, and bass player of the band E.U. (Experience Unlimited). E.U. has had 3 billboard hits including the "Da Butt" which peaked at #1 on the US Billboard Hot Black Singles in 1988 and was also a featured performance in Spike Lee's film "School Daze". Also, to his credit, his group Experience Unlimited aka E.U. was not only an opening act for the commencement ceremony for the 2016 opening of the Smithsonian National Museum of African American History and Culture but they also have an exhibit on the third floor of the museum.
Born in Red Springs, North Carolina, Gregory's mother Ms. Ernestine Elliott moved her family to Washington, DC when he was only 2 years old and eventually settled into the Valley Green neighborhood of Southeast DC. Ms. Elliott raised her children with strong Christian values and kept them in church and school. Gregory was drawn to music at an early age.  His mother noticed his love for music and bought him a six-string guitar when he was 13 but Gregory was drawn to the bassline of music. Self-taught, he learned to play bass by watching musicians on TV.  Every day he played "Tighten Up" by Archie Bell & The Drells. He listened to other artists like James Brown and Kool & The Gang and as his tastes expanded, he discovered a love for Rock and Roll. It was also around this his after-school caretaker, Ms. Ethel Knight, gave him the name Sugar Bear, saying he started to look like the Sugar Bear on the box of Sugar Crisps he ate daily.
Sugar Bear attended Ballou High School in Southeast DC where he played football and boxed. He got together with a group of musicians and put together a band named The Rebels, who won Ballou's best new group award. The band's name changed from The Rebels to The Young Hustlers to Experience Unlimited (E.U.) – inspired by The Jimi Hendrix Experience "Are You Experienced".  After opening for the legendary Chuck Brown & The Soul Searchers at the Panorama Room in Southeast DC, Bear noted "People liked us, but they wouldn't dance so Chuck Brown pulled me to the side and said 'Son, you have a lot of great talent, but you have to play what the people want to hear'. We stayed around and watched the set and I was amazed at the call and response! The whole place was jumping for two hours straight and that day, I learned what the Go-Go music scene was all about.." That following Monday, E.U. rehearsed and changed their entire format to a Go-Go.
In 1988, one song took E.U. from a local band to a globally known name: Da Butt, a Grammy nominated hit which reached #1 on the Billboard Black Singles Chart, and was ranked #61 on VH1's 100 Greatest One Hit Wonders of the 80s. The music video was directed by Spike Lee. E.U. received Soul Train award for Best New Artist in 1988 and performed on the Soul Train show, as well as on the Arsenio Hall show..  A Tour with Run DMC followed, as well as a tour with Salt-N-Pepa, with whom he collaborated with on "Shake Your Thang".  An OSU tour took the band around the world.  2 additional Billboard charting hits "Buck Wild" and "Taste of Your Love" came from their Virgin records debut album.
Sugar Bear and E.U. continued a top the DC Go-Go scene over the years that followed, building a large and loyal fan base while releasing local hits like "Umm Bop Bop". In 2001, EU was a featured act in the Put Your Hands Up The Tribute to Chuck Brown DVD, cited as "..quite possibly the greatest live concert video/dvd I have ever seen" by Murder Dog Magazine.  In 2014 Sugar Bear was featured as lead vocal on "Pop That Trunk" on the posthumous Chuck Brown "Beautiful Life" album.  In 2016, EU performed at the opening of the National Museum of African American History and Culture. In 2019, during the #DontMuteDC campaign, DC native and movie star Regina Hall brought out Sugar Bear & E.U. and Rare Essence to perform. During the 93rd Academy Awards, actress Glenn Close shouted out Sugar Bear and danced to the song "Da Butt".  In 2021 The Chuck Brown Foundation presented Sugar Bear with the LEGEND award.  In 2022 EU released a remake of their classic "Peace Gone Away".
Sugar Bear is grateful for the career he has been blessed with and gives all glory and honor to God "who makes everything possible." Still grounded in his Christian foundation, Sugar Bear believes in the biblical principle stated in Luke 6:38 "Give, and it will be given to you: good measure, pressed down, shaken together, and running over will be put into your bosom. For with the same measure that you use, it will be measured back to you." Because of this, he gives back daily to his students at T.C. Williams High School where he serves as a dedicated Special Education instructor. With a heart for uplifting people in his life and through his music and a dedication to the music born in DC that he loves, Sugar Bear and E.U. continue to keep the dance floor packed.